Divorce Attorney in Parsippany, NJ
Morris County Divorce Lawyers: Guiding You Through the New Jersey Divorce Process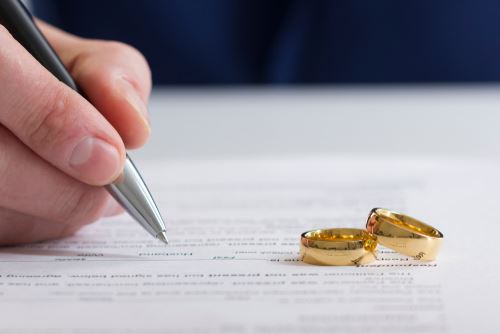 The end of a marriage brings with it various and shifting emotions, conflicts, and uncertainty. Divorce is one of life's most difficult and challenging processes. To disentangle yourself physically, emotionally, and financially from your spouse, you will need to make important decisions.
When dealing with child custody and parenting time issues, it can be particularly challenging to reach an agreement that will be fair and just for both sides while doing what is best for the child. As a result, it is essential that you understand how New Jersey laws impact any of these issues, what to expect, and how to navigate the divorce process as effectively as possible.
We specialize in all areas of family law at Simon, O'Brien & Knapp. Providing families with the closure they need to move forward is our commitment to Parsippany, New Jersey, resolving disputes efficiently and cost-effectively. The family lawyers at our firm handle every family case with the utmost sensitivity, respect, and a focus on creating strategies that are tailored to each family's specific needs.
Facing a potential divorce in Parsippany, NJ? Contact our family law lawyers at (973) 604-2224 or through our online consultation request form.
What Is the Difference Between a Divorce Lawyer and Divorce Attorney?
The difference between a divorce lawyer and attorney starts with understanding divorce is a subcategory of family law.A divorce lawyer is a type of family law lawyer who practices divorce, since most family law attorneys handle divorce as a primary subset of work.
A family law attorney typically handles divorce plus other family matters. At Simon, O'Brien, & Knapp, you can work with a legal team providing comprehensive help with all aspects of divorce. Our family law firm located in Parsippany, NJ, has been serving clients in the area since 1967 providing effective representation for even the most complex divorce cases.
Our Parsippany divorce lawyers bring vast knowledge, skill, and resources to every client. This includes helping you negotiate fair and just divorce settlements through mediation as well as aggressively litigating where you and your spouse cannot agree or where your best interests are not being served.
The Divorce Process in Parsippany, New Jersey
In any divorce in Parsippany, you and your spouse will be required to settle whatever issues pertain to the ending of your marriage.
These divorce issues can include:
Whether alimony will be provided to a spouse and, if so, how much and for what length of time
How child custody and parenting time will be arranged
How child support will be calculated
How marital property, assets, and debts will be assigned, divided, and distributed; this can include such issues as how to handle the marital home, how to divide business interests, professional practices, high net worth, how to handle children's college expenses, pensions, retirement accounts, and more
Does It Matter Who Files for Divorce First in NJ?
No, it does not matter who files first for divorce
in New Jersey. One person needs to begin your divorce process by filing for divorce from your spouse with the court as the Plaintiff and the other spouse as the Defendant. Again, it does not matter who the Plaintiff or Defendant are to the state.
The process for divorcing is started by filing the necessary forms with the court, paying the divorce filing fee, and having copies of your divorce paperwork in Parsippany served on your spouse who will have a set time period in which to respond.
Once your court filing takes place, you and your spouse will need to come to divorce settlement terms on the various divorce issues either on your own outside of the court, through mediation services, or, where the issues are being contested, through litigation before a judge in Parsippany, NJ.
How Fast Can a Divorce Be Finalized in New Jersey?
In New Jersey, both parties can complete divorce as early as 6 to 8 weeks from the original filing date. Typically an uncontested divorce takes 3 to 4 months to complete any settlement agreement and get court approval. However, if you and your spouse mutually agree on all legal matters and decide to move forward, it can be finalized quicker.
There are several reasons why a divorce case can drag on. First, if you and your ex-spouse agree on all family law issues, you have an uncontested divorce.
An uncontested divorce is an ideal situation because divorce is just a legal formality. Many states present fast-track divorces, also known as a simple divorce, for individuals with no kids, limited assets, and other related factors.
If the ex-spouse meets the requirements for a simple divorce, they can finalize their divorce in a matter of weeks or months.
On the other hand, a divorce can take much longer and become more expensive if you and your spouse disagree about issues in the divorce.
What Are Uncontested Divorce Cases?
If you and your spouse have decided to go your separate ways but remain on relatively good terms in Parsippany, you may file for a no-fault uncontested divorce. This type of divorce is based on an irreconcilable breakdown of your marriage relationship.
The state of NJ offers two variations of this type of divorce. In one, you and your spouse have been separated and have lived apart for at least 18 months (you may have a formal divorce agreement).
In the other, you have had irreconcilable differences for at least six months before starting the divorce process.
Because no conflict needs to be resolved through court intervention, this type of divorce is generally the fastest, least expensive, and least stressful.
Fault-Based Divorces in Parsippany, New Jersey
Fault-based divorce in Parsippany, NJ will take longer than no-fault due to the fact that you will have to provide evidence to the court of the "fault" you are accusing your spouse of having committed.
Fault-based divorce can consist of:
Having committed adultery
Having willfully abandoned a spouse for at least 12 months
Having engaged in physical or mental cruelty against a spouse
Having abused alcohol or drugs consistently for at least 12 months
The matter of fault generally will not affect how your marital property and assets may be divided in a divorce but it may be considered by a judge in Parsippany, NJ in the issue of alimony.
Contested Divorce Cases
Where conflict or animosity exists between you and your spouse that cannot be resolved through negotiation or formal mediation or where fault is being alleged, you will have to argue your divorce case before a judge. This can occur due to both legal as well as emotional factors.
Unfortunately, due to court schedules and the need for litigation, these divorce cases take longer, involve higher expenses, and can be extremely stressful.
When you are involved in a contested divorce, it is essential to have an experienced and aggressive attorney who will thoroughly prepare and present your case in a compelling manner.
At Simon, O'Brien & Knapp, our Parsippany divorce lawyers have a strong track record of fighting tirelessly in court to reach positive outcomes for our clients.
How Can A Divorce Attorney In Parsippany Help You?
Having access to a trusted attorney can help you tremendously when it comes to filing for divorce. Not only can your divorce attorney help to smooth the divorce process for you, but he or she can serve as a great support system for you during this challenging time. Your attorney will be there to answer all of your questions and provide you with the legal counsel that you need.
Some ways that a divorce attorney can help you include the following:
Legal Counsel: Your divorce attorney will be next to you to guide and support you through each step of the divorce. Having objective legal guidance can be tremendously valuable during this time, and will help ensure that you are aware of all of the options available to you.
Support System: Your lawyer will have worked with many individuals filing for divorce, and will be there to offer you the emotional support that you may need.
Representation: If your case gets taken to court, your lawyers will effectively represent you in the courtroom. Hiring an experienced attorney who has worked with a number of other individuals filing for divorce is important to ensure that you have the representation that you need for various matters being affected by the divorce.
Paperwork: Your divorce attorney will take care of all of the hefty paperwork that is involved with filing your divorce. He or she will make sure that everything is completed correctly, and that it gets to where it's supposed to on time.
Mistake Prevention: Your divorce attorney will make sure that everything is completed the way that it's supposed to, and will help you avoid making any costly mistakes throughout the process.
Contact Our NJ Law Firm For Legal Guidance
No matter what type of divorce process you may be facing, our family law firm in Parsippany, NJ is here to ensure that your legal rights are protected as we pursue an outcome through a process that meets your needs and objectives.
Our recognized and highly-skilled legal team has built a solid reputation for its competence in serving clients throughout our area of Parsippany.
Let our divorce lawyers provide the representation you need for this critical legal process.
Suggested Reading:
Call

(973) 604-2224

to get your divorce questions and concerns addressed today. What Makes Us Different?
Trusted Legal Advice & Support
Strategic Approach

We strategize to ensure we reach optimum results for your unique case.

Availability

Our attorneys are easily accessible when you need us most.

Results-Driven

We will do everything possible to help you obtain a favorable outcome for your family.